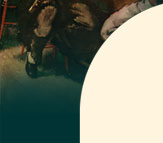 Of Special Interest to Bassoonists
Hans Moennig • Simon Kovar • Miscellaneous Info
Rememberances of Hans Moennig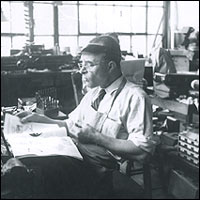 Hans Moennig - Master Craftsman

The address impossible to forget — 15 South 21st St. — Philadelphia, PA.
The following was sent to the IDRS in 1998:
My mental caricature of Hans Moennig would look like this: A very average looking man in his 50's, 5' 9", eyeglasses, and a smoking pipe semi-attached to his mouth, removing it of course when he did his famous pad checking suction routine on the calf of his leg when he was testing the tenor joint for leaks, although he tested all the joints by suction. On top of his head was the ever present sun visor, why I never knew–the shop was drab and dingy. I almost forgot to mention the apron hanging from his neck. And oh yes–a shirt, rolled up sleeves, and a TIE!

I usually pulled up a chair near his workbench and enjoyed watching the "Meister" at work. His conversation was sparse-perhaps a "how is my friend Simon Kovar" or "what show are you playing in now." Then a strange thing would happen. He'd clear away a portion of his workbench, take out a complete lunch his wife had prepared and begin eating while thumbing through a magazine, never saying a word to me. I always figured that was a clue for me to leave and get my own lunch and certainly not a time for small talk.

One time he stopped working on my bassoon, cleared a space, laid his head down on his arms and took a little nap before lunch.

I was left sitting there until Casimir, his "apprentice", suggested I may as well leave and go for lunch.

Since no one was talking to me, I left for lunch.

— Marvin Roth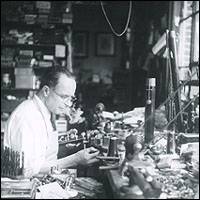 The High "D" Hole

Hans Moennig once told me that he told Heckel they were putting the high D hole in the wrong place and that's why players (including myself) were having some difficulty making that note speak easily.

A man with that kind of moxy had to be an extraordinary machinist and craftsman. Hans practically made a tool for every kind of work he had to do on a bassoon. The tools he didn't make himself appeared to be from a time long gone by. The best example of that was that relic of a drill he controlled by a foot treadle–I swear it must have been from the days before electricity. And that's exactly how he drilled a new high D hole in my 9000 series Heckel when it was just a week old. Do I have to tell you what kind of experience that was for me watching the "chips fly" from the wing joint of my brand new Heckel???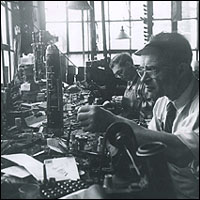 Mozart's Concerto K191

Hans used to sell copies of the Mozart Concerto K191 for a couple of bucks, edited & cadenzas written by J. Walter Guetter, his cousin, who before Sol Schoenbach was 1st Bassoon with the Philadelphia Orch.. During Guetter's tenure, the other woodwinds were Marcel Tabuteau, Oboe-Daniel Bonade, Clarinet-William Kincaid, Flute–& of course the great French Horn player Anton Horner. How would you like that for a pick-up woodwind quintet?

That above mentioned Mozart was privately published. (I still have my copy) and contains a 2 page "Vorwort" written in German & English by Guetter, explaining the 4 new cadenzas he wrote for his performance with the Philly Orch. under Stokowski on Jan. 11, 1934.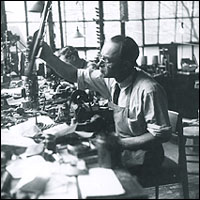 Mecca to Bassoonists

15 south 21st St. in Philly was Mecca to Bassoonists the world over who needed the KING to check out their ailing instruments. He also worked on clarinets — didn't particularly like working on flutes — but bassoon was his first love; he was related to the great Walter Guetter, solo bassoon of the Philly Orch.–before Schoenbach. Casimir was like an "apprentice' to Moennig. Hans would rarely let him do intricate bassoon work and seemed to relegate basic clarinet and flute repairs to him. Believe it or not–Casimir always addressed Moennig as "Meister", never using his name.


The Moennig Canon
An email sent to the IDRS listserve March 20, 1998:
I heartily agree with Norman Herzberg's theory on fingerhole tubes. About 45 years ago I took my brand new 9000 series Heckel to Hans Moennig for inserting saliva tubes. Never in all those years since then has there ever been a problem of any sort regarding those tubes. I had complained about having some difficulty with the highest D. (keep in mind the bassoon was about 2 weeks old). Hans, — the KING of bassoon repair — took the key off, took some measurements, walked over to his old foot pedal controlled drill, drilled a completely new hole, plugged up the original hole, soldered an extra piece of metal to lengthen that D key to reach the new hole, handed it back to me with-"try it now, I tell Heckel all the time they put that hole in the wrong place".

The man was right; never again would I have a problem with that high D — or — his saliva tubes. He charged me 5 dollars apiece for those silver tubes.

The KING is dead! Long live the king!

Marvin Roth